Babysitters in Acharnés
Find a trustworthy babysitter on Babysits
Το όνομα μου είναι Δήμητρα, είμαι φιλική, δημιουργική, ήρεμη, ευχάριστη , κοινωνική και παρέχω ευχάριστη αύρα και φαντασία. Επίσης λατρεύω πολύ την μουσική, την ζωγραφική, τα παιδιά,..
Είμαι 28 χρόνων φιλική και με αγάπη για τα παιδία μου αρέσει να περνάω χρόνο με τα ανίψια μου μου αρέσει να περνάω χρόνο με τα παιδάκια έχω έμπειρια δυπ χρόνια σε παιδάκι και πολύ..
Average response time: 12 hours
€5.00/hr
Ονομάζομαι Εύα και είμαι 23 χρόνων. Από μικρή έτρεφα μεγάλη αγάπη για τα παιδιά και για αυτό διάλεξα ως επάγγελμα το να γίνω δασκάλα. Έχω τελειώσει βρεφονηπιοκομος στο ΙΕΚ ΑΚΜΗ και..
Λέγομαι Μασσαλη Αναστασία έχω πτυχίο ως βοηθός βρεφονηπιοκομου και έχω εμπειρία τόσο σε φύλαξη παιδιών στο σπίτι όσο και ως δασκάλα σε παιδικό σταθμό αγαπάω πολύ τα παιδιά και λατρεύω..
Γεια σας! ονομάζομαι Σταυρούλα και σπουδάζω βοηθός εργοθεραπειας. παράλληλα με την πρακτική μου θα ήθελα να μπορώ να προσέχω κάποιο παιδί τις πρωινές ώρες. είμαι πολύ υπομονετική..
Είμαι 23 χρόνων έχω ένα παιδάκι 6 χρόνων τον Ιούνιο 2023 πήρα το απολυτήριο και το πτυχίο μου δουλεύω σε εστίαση μου αρέσουν πολύ τα παιδιά και να παίζω μαζί τους..πιστεύω είμαι διασκεδαστική..
l am a kindergarten teacher and l have been working in schools for thirteen years.l also have experience in babysitting.l am quite experienced with children,l can understand their..
Αγαπώ τα παιδιά και μου αρέσει να περνάω χρόνο μαζί τους. Έχω μεγαλώσει 2 παιδιά και 4 Εγγόνια. Έχω σπουδάσει Γαλλική φιλολογία όπου Έχω εξασκήσει το επάγγελμα μου στην Ρωσία. Μιλάω..
Φοιτήτρια βρεφονηπιοκόμος που αγαπώ να εργάζομαι με παιδιά και είμαι γεμάτη όρεξη για να αναλάβω τη φύλαξη βρεφών και παιδιών αλλά και περαιτέρω εργασιών μέσα στο σπίτι.Έχω εμπειρία..
Είμαι φοιτήτρια στο τμήμα πρώιμης παιδικής ηλικιας (πρώην βρεφονηπιοκόμων). Κάνω πρακτική άσκηση σε παιδικό σταθμό όπου έρχομαι σε επαφή με παιδιά κάτω των 4 ετών. Μπορώ να ασχοληθώ..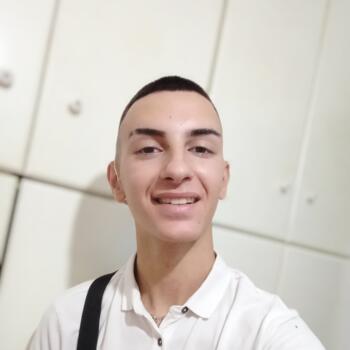 Φιλικός ευγενικός έμπειρος από μωρά υπομονετικός με διάθεση και χαρά οφείλω να προσέχω τα μωράκια και να τα κάνω χαρούμενα καθημερινά. Να παίζουμε να τα τάιζω να τα κοιμιζω να τα..
Είμαι τελειόφοιτη στο τμήμα νηπιαγωγών στο ΕΚΠΑ. Από τις αρχές των σπουδών μου εχω ασχοληθεί με το κομμάτι της φροντίδας, της φύλαξης και της δημιουργικής απασχόλησης των παιδιων μέσα..
Είμαι ευχάριστος άνθρωπος! Αγαπάω πολύ τα παιδιά, έχω υπομονή και διάθεση σε κάθε περίσταση!! Είμαι διημηουργικη μπορούμε νά κάνουμε ανάλογα την ηλικία καί δραστηριότητες! (Αγαπώ τα..
Ειμαι εκπαιδευτικος και εχω ασχοληθει με την δημιουργική απασχοληση νηπιου! Ειμαι μητέρα μιας μικρουλας 4,5 ετων! Η ενασχοληση με τα παιδια παραμενει το όνειρο μου κ ειναι για μενα..
Γεια σας είμαι η Αρετή και είμαι έτοιμη να σας γνωρίσω ! Αγαπώ τα παιδιά μιας και μεγάλωσα τον αδερφό μου και φρόντισα επίσης τα παιδιά των φίλων μου με πολύ αγαπη και παιχνίδι! Θα..
---
---
Babysitter in Acharnés wanted?
Find your reliable babysitter in Acharnés here! We have 20 active babysitters in Acharnés matching your search criteria. Babysits gives you the peace of mind you deserve as a parent!
---